Physiotherapy at Advance Health Group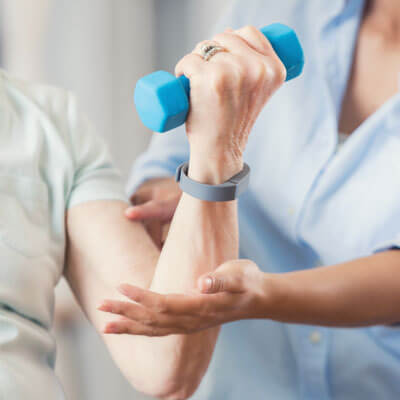 Physiotherapy and chiropractic care share a common goal: to help the patient's body achieve a more efficient and effective self-management level. The difference is that physiotherapy has a specific emphasis on rehabilitative exercise.
Our physiotherapy approach utilizes supervised exercises, intramuscular stimulation, acupuncture, therapeutic ultrasounds, interferential current, laser therapy to help you recover from soft tissue and joint injuries or dysfunctions.
Physiotherapy is one piece of our collaborative process and may be combined with aspects of chiropractic and massage therapy to help you achieve your goals.
What Is Physiotherapy?
Physiotherapy aims to restore function and mobility in injured parts of your body, and we do that by taking a unique look into the whole-person to determine a custom care plan that works. More so, we believe in helping you stop the dysfunction from recurring, and working on prevention after healing will be a big part of your care with us.
Frequently Asked Questions
Almost everyone can benefit from physiotherapy as the main goal is to restore function to your body or injured area. When function is restored, things work better and become easier.
You might be a candidate for physiotherapy if you have a new or old injury causing problems in your life, whether it be a nagging pain or just keeping you back from being your best. Whatever the case, we're here for you. When you visit us, we'll let you know if you're a candidate for care. Many of our patients visit us for chiropractic treatment,
massage
,
acupuncture
and physiotherapy, taking a complete, whole-body approach to their health for optimal results.
The area we're working on improving may be sensitive, sore or weak, but you should never be in any serious pain as we work on progress and improving your function. If you're ever in pain, please let us know right away.
Learn More Today
We'd love to help you experience relief from pain and get back to living the life you love. If you'd like more information, simply contact us to book your first appointment or ask any questions that you might have.
We can't wait to help you unlock your true health potential, naturally.
BOOK AN APPOINTMENT »
---
Physiotherapy Northeast Calgary AB | (403) 454-8330