Massage Therapy at Advance Health Group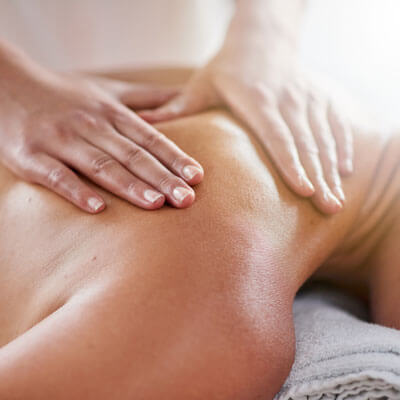 After seeing our chiropractor and physiotherapist for biomechanical assessment and corrective care, we find it helpful to incorporate massage therapy for relief. Many of our patients are suffering from pain or discomfort and need the release that massage can offer.
Expertly applied massage therapy can increase circulation and stimulate the systems of the body to aid in healing.
We highly recommend that everyone take advantage of massage therapy and the stimulative, circulative, and relief benefits that it can offer. We provide catered, customized pressure that is adjustable to your sensitivity and pain levels.
Massage therapy is an important piece of the collaborative care plans we offer, because our ultimate goal is to increase your comfort, relieve your pain, and help you feel better.
Frequently Asked Questions
We strive to make you feel comfortable in our care. While a massage may be sensitive when working on an injured area, we'll never apply too much pressure to the point of causing further problems or pain-the goal of massage is to help heal your body. If your therapist is ever applying too much pressure, please speak up right away so we can make adjustments.
How Often Can I Get a Massage?
Some patients visit us weekly, monthly or whenever they feel the need to. There's no right or wrong answer as to how often you can visit us. If you're under care for an injury and also receiving chiropractic, we'll let you know how massage can positively influence your treatments and recovery and make a suggestion to you for frequency.
Can I Exercise After a Massage?
Yes, you can exercise after getting a massage, but we recommend working out beforehand if you want to. Giving your body ample time to rest after a massage is important as your muscles are loose and limber.
Do You Offer Massage for Sports Injuries?
Yes! We love working with athletes. If you have a sports injury, let us know so we can craft a custom experience for you as we do with all patients.
How Long Will My Massage Last?
We're happy to offer a variety of massage techniques and lengths. Most commonly, patients can book a 30, 45, 60 or 90 minute massage.
---
Massage Therapy Northeast Calgary AB | (403) 454-8330