New Patients at Advance Health Group
When you enter our warm and welcoming office, we will greet you as a new member of the Advance Health Group family. We make every effort to ensure your comfort, and will walk you through the intake and care processes step by step.
We feel honored that you've chosen us to usher you back to health, and we will do everything in our power to respect that choice by listening, managing expectations, and administering exceptional care.
Your First Visit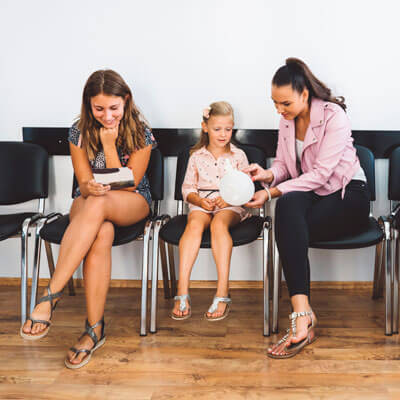 Before your first visit, we will send you an intake form with the new patient information that we need to get you started. Please feel free to include any prior X-rays, imaging results, and relevant health history, and remember to wear loose, comfortable clothing for your session.
At your first appointment, our goal is to gather the information we need to deliver a solid care plan, so we spend a good amount of time delving into your condition and history. We suggest setting aside about an hour for this appointment. The first visit process allows our doctors to understand your condition on a biomechanical level and help you build confidence and comfort in your plan.
This session also allows us to align our goals and open the lines of communication to set us up for consistent results and a solid framework for continuously reevaluating as we proceed.
The new patient onboarding process is a one visit procedure designed to help us understand each other and how your history has contributed to your current pain. We also perform a thorough physical assessment, and your practitioner will attempt to guide you through an explanation of why and how your injury occurred. We find that when our patients understand their condition, they are far more capable of executing their care plan requirements and ultimately achieve better results.
Prepare to begin your care plan by the second visit, and remember to prepare all your questions and concerns so your practitioner can walk you through them when you arrive.
Discover How We Can Help Today
Advance Health Group offers dedicated care across chiropractic, physiotherapy, acupuncture, and massage therapies. Our office is open from 7 AM – 7 PM Monday – Saturday. We accept insurance and credit cards, offer competitive fees, and convenient parking at our Northeast Calgary office.
Contact us to set up your appointment today!
BOOK AN APPOINTMENT »
---
New Patients at Advance Health Group | (403) 454-8330