Meet Dr. Lynda Chen, Chiropractor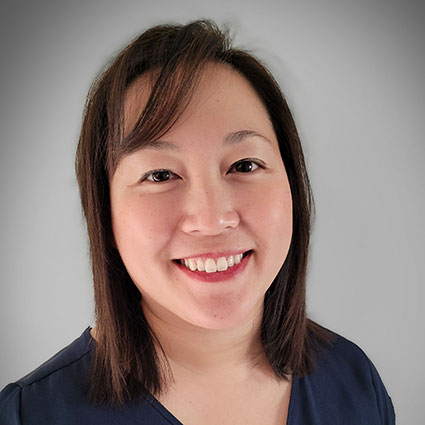 Advance Health Group is led by a team of highly experienced, ethical, and dedicated practitioners. Our therapists are trained in massage, acupuncture, chiropractic, and physiotherapy, and collaborate together to bring a combined expertise to your care plan.
Dr. Lynda Chen is our Clinical Director and head practitioner of chiropractic care. She is a happily married dog mom who has been practicing chiropractic for ten years.
Dr. Chen attended the prestigious Canadian Memorial Chiropractic College in Toronto, where she first developed her deep interest in anatomical biomechanics. She has developed a nuanced understanding of how the functional movements of the body operate, and how to best convey those movements to her patients in the context of their healing.
Welcoming Patients of All Walks of Life
Dr. Chen loves meeting new people and learning the different aspects of their lives that make their story unique. She attributes much of her skillset to what she has learned from her incredibly adaptive patients and considers the connections she has formed with them over the years to be the best part of her job. Dr. Chen is caring and approachable, and very passionate about forming meaningful relationships and improving lives.
She initially chose to pursue chiropractic as a career because she wanted to directly help people with her hands, and that simple goal is still the underlying thread of her practice. Her relentless pursuit of beneficial results is rooted in her humble beginnings and her lifelong dedication to family and community.
In addition to her chiropractic degree and certification, Dr. Lynda Chen is trained in Dry Needling, Acupuncture, Graston Technique®, Active Release Therapy®, and Kinesio Taping®, and is a Functional Range Release® provider. She is passionate about improving lives and dedicated to designing a catered, effective plan for every individual she treats.
EXPLORE OUR SERVICES »
Learn More About Our Team
Our doctors appreciate the benefits of both conventional and alternative therapies to help you achieve your goals. We believe that there are many paths to help people improve, and a traditional approach isn't always necessary. Our techniques are finely tuned to represent the best of all therapeutic worlds, to help you achieve a higher quality of life.
Contact us at (403) 454-8330 to set up your consultation with Dr. Lynda Chen today! We look forward to answering your questions and developing a relationship that serves us both into the future.
---
Dr. Lynda Chen | (403) 454-8330